Xtreme Lashes by Jo Mousselli® is the industry leader in eyelash extension training online with over 35,000 beauty professionals trained worldwide. When you enroll in our renowned Training Program, you'll receive hands-on training and learn the fundamentals, core techniques, and business-building strategies to become a successful Xtreme Lashes Lash Stylist.
Train from the Comfort of Your Own Home – 4-Day Xtreme Live Online Trainer-Led Classic Lash Extension Certification Training
Interact in real time with your Trainer and complete live hands-on applications from the comfort of your own home.
LEARN MORE & ENROLL
Are you a licensed and credentialed health or beauty professional or enrolled in a health or beauty license program? With our eyelash extension training you can start a rewarding and profitable career that enables you to enjoy financial independence, a flexible work schedule, and repeat appointments every 2-4 weeks through providing eyelash extensions: one of the fastest growing beauty services. Create your own work schedule that fits into your family's needs. Achieve financial independence through a consistent list of customers that enjoy longer, fuller, darker and more lifted eyelashes indefinitely through Relash™ appointments every two to four weeks.
Learn more about Xtreme Lashes Eyelash Extensions Training
About the Xtreme Lashes Live Online/Virtual Classic Certification Training (Train at Home)
Interact in real time with your Trainer and complete live hands-on lash extension applications from the comfort of your own home. Utilize the interactive online eyelash extension training modules at your own pace before, during, and after the virtual training.
Learn more about Xtreme Lashes Virtual Classic Certification Training
About the Xtreme Lashes Fundamentals & Classic Certification Training (Train at Venue)
This eyelash extension training is comprised of two courses that spans across 4 days: Fundamentals of Eyelash Extension Application Course and Certification in Eyelash Extension Application Course.
In the 2-day Fundamentals Course, you will receive comprehensive education and hands-on training in the art and science of eyelash extension application under the direction of an Expert Certified Eyelash Extensions Trainer.
In the 2-day Certification Course, you will learn how to customize lash designs to your clients' eyes, receive additional hands-on practice with live models, and develop successful and effective business building skills.
Furthermore, after receiving this eyelash extension training, you will be assigned a dedicated Customer Success Manager for business support.
Once you complete your eyelash extension training and get Certified you will have the opportunity to be listed on the Xtreme Lashes Online Lash Stylist Directory™, putting you in front of thousands of potential clients searching for Certified Eyelash Extensions Stylists in your local area.
At Xtreme Lashes, in addition to providing you hands-on eyelash extension training and eyelash extension training online, our goal is to provide you with comprehensive education, high-performance products, and legendary business and customer service support to ensure your long-term success as a Lash Stylist.
Enroll in our Eyelash Extensions Training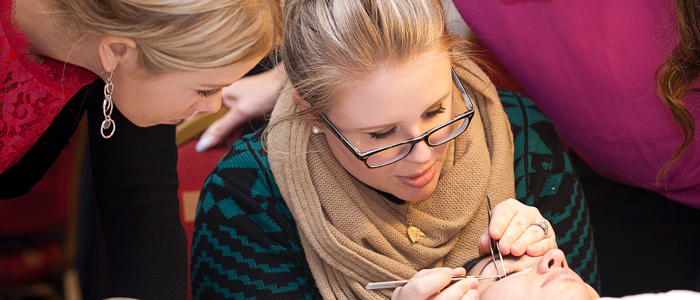 Why go Xtreme?
Comprehensive selection of hands-on eyelash extension training that develop, support, and maintain your lash artistry skills. We hand select our Trainers to ensure we have the most talented individuals who believe in our vision and mission to empower and enrich lives through beauty.
Online listing on the Xtreme Lashes Lash Stylist Directory™ putting your name in front of thousands of consumers looking for an Xtreme Lashes Certified Lash Stylist in their local area every day.
Extensive assortment of high-performance application supplies and retail products developed by registered nurse, co-founder, and CEO, Jo Mousselli. For example, our Clinically-proven Hypoallergenic FlexFusion® Adhesives and our Dermatologist tested and Clinically-proven Hypoallergenic Silicone Under Eye Patches.
Specially formulated and Registered Nurse developed eyelash extension compatible cosmetic and skincare products that combine advanced scientific technology with proven ingredients from nature for maximum efficacy to create additional value and revenue alongside your lash services.
Get the best wholesale price! Our pricing structure enables you to maximize your profit by generating at least 100% profit on your retail product sales.
Exclusive Weekly Newsletter: keeping you up-to-date on the eyelash extensions industry, providing you with business building tips, informing you of new product launches, lash application techniques, and offering you promotional discounts on application and retail products.
Dedicated Customer Success Managers providing you legendary customer and business building support. PLUS, same day order fulfillment and shipping for overnight and second day delivery.
Live technical Troubleshooting Support Hotline to provide you with real-time assistance and help when needed.
Online Education to keep you up-to-date on the latest eyelash extension application products and techniques after your eyelash extension training.
Business building loyalty programs that strengthen your skills, expand your business, and increase your profit.
Find an Eyelash Extensions Training Program
Continuing Education: Advanced Training & Online Education
Professional development never stops at Xtreme Lashes. Upon completion of the Lash Stylist Program, you have immediate access to our Online Education and the credentials to sign up for Advanced Training, our highest level of eyelash extension training.
Advanced Training, offered at the Xtreme Lashes Academy of Lash Artistry, is a high-level eyelash extension training that offers courses such as Volumation™ (volume lashes). Volumation is the technique of adding multiple eyelash extensions to one single natural eyelash to create depth, volume, and texture utilizing the Xtreme Lashes Lash Calculator®.
Online Education is your portal to 24/7 eyelash extensions training- online. Log in and get access to Training Videos, Product Fact Sheets, marketing tips, lash design guides, and more from the comfort of your own home or lash studio.
When in search of hands-on and online eyelash extension training, contact Xtreme Lashes. The Global Leader in eyelash extension training since 2005.
Need more information about our eyelash extension training before you enroll? Call the Xtreme Lashes Customer Success Department at 1-877-244-5274 or fill out this form for assistance.
LEARN MORE & ENROLL