Summer heat, humidity, sweat, and eye makeup are factors you're literally faced with when you think: "Properly clean lash extensions..how?! What did my Lash Stylist tell me again?! I don't want to go back to wearing mascara every day!"
But with so many 'how to clean lash extensions' tips online, we, as global leaders of the lash extensions industry since 2005, are here to bust bogus information and give you the facts on what's necessary and what's not!
Lash Extension Aftercare Begins with Daily Care & Considerations. TRUE.
We always want to avoid rubbing our eyes aggressively, picking at our lashes, applying extreme friction to the lashes, or standing near extreme heat sources, such as an outdoor heater.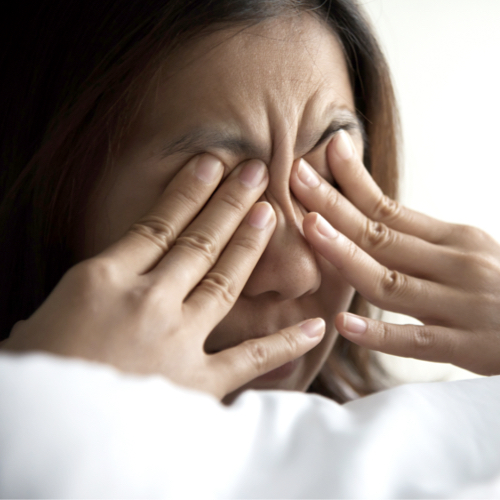 That's no problem during summer, but if you live in a colder climate or like to hit the slopes, then you don't want to stand directly beneath a heating element. No matter the brand of lash extension used, the extreme and direct heat will affect the look and longevity of the lashes as they are derived from artificial materials (Xtreme Lashes Lash Extensions are vegan and cruelty free!). You don't have to worry about normal daily use aside from that though – go to the beach, enjoy the sun, and get your tan on!
Proper Lash Aftercare Techniques Help Extend the Retention of Lash Extensions. TRUE.
When you hear the term "Lash Aftercare", don't worry, it's a lot simpler than you think! It encompasses lash cleansing techniques and lash care rituals to help make your lashes last! Keeping the lash line (where the lash attachment area is) clean and free of daily buildups is what you must aim for when you clean lash extensions.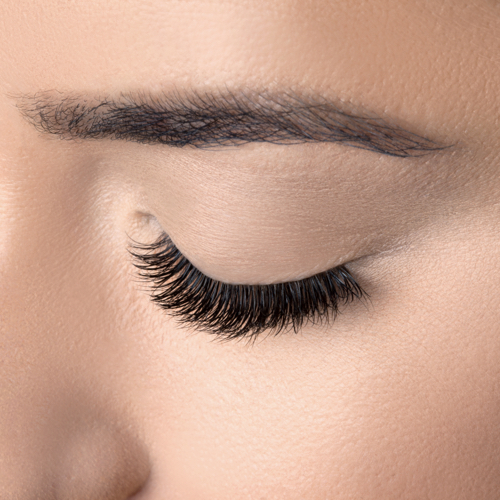 And if you wear heavier eye makeup, you only need to dedicate a few extra minutes on top of regular lash cleansing with an eyelash extension cleanser and snag-free cleansing tools to make sure you're removing all that makeup properly. We've got you, here's an easy Step-by-Step Tutorial: How to Clean Lash Extensions.
Clean Lash Extensions with a Safe Lash Cleanser Formula. TRUE.
A specially formulated and tested cleanser is integral to maintaining your lash extensions and it performs other essential functions, such as cleansing your skin, eyes, and natural lashes.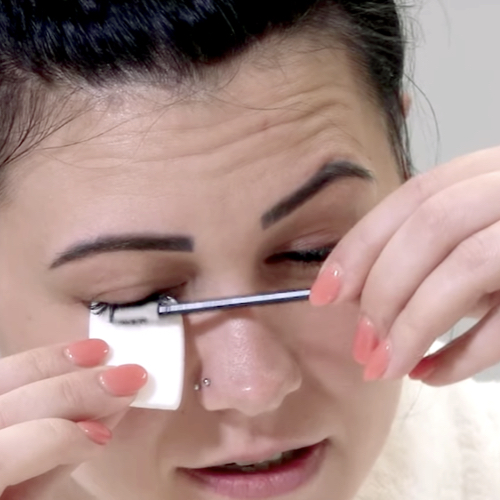 Google search results may simply tell you to look for oil-free ingredients, however, it's never that simple. Untested ingredients or another brand's formulation, may negatively impact the lash attachment area by wearing down the lash glue or even leave behind harsh build-up, resulting in premature lash extension loss. To clean lash extensions with a proven lash-friendly formula and rejuvenate your skin's appearance, give the Xtreme Lashes Eye Makeup Remover & Facial Cleanser a try.
Lash compatible cleansers should not contain skincare ingredients because it can put lash extensions at risk. FALSE!
You do not need to give up skin-rejuvenating ingredients when you clean lash extensions. As long as the formula was developed to be lash compatible and tested with the lash extensions and adhesive used in the application, then you have nothing to worry about!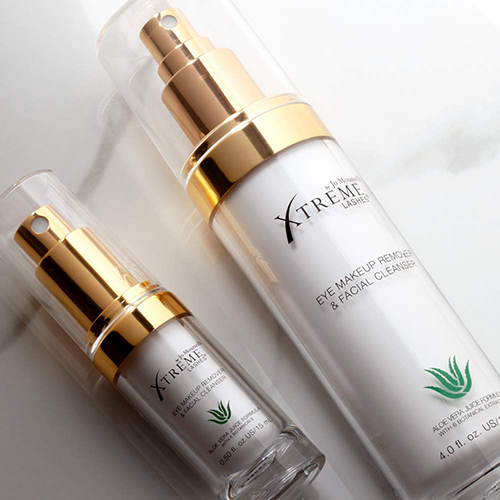 For example, the Xtreme Lashes Eye Makeup Remover & Facial Cleanser™ contains skin soothing Aloe Vera Juice that gently cleanses and moisturizes skin while conditioning lashes and brows. Plus, its coconut-derived cleansing agent removes impurities and makeup, while antioxidant and vitamin-rich botanical extracts such as rosehip, chamomile, eyebright, and cucumber calm, refresh, nourish and protect. With this cleanser, you can clean lash extensions and get a beauty treatment all in one easy step!
It's more complicated to clean Volume Lashes versus Classic Lashes. FALSE!
The best eyelash extensions are the ones developed within a holistic process. Xtreme Lashes currently has 8 categories of eyelash extensions – all of which were developed to be compatible with our entire portfolio of professional lash application supplies and aftercare products.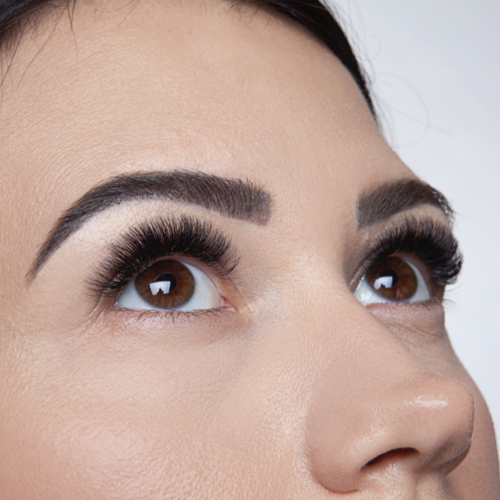 You should not use cotton squares or Q-tips to clean lash extensions. TRUE.
Use only lint-free cleansing sponges and applicators when you clean lash extensions. Cotton squares or Q-Tips can tug at the lash attachment area and deposit fibers and lint on the lash attachment area, resulting in premature lash loss.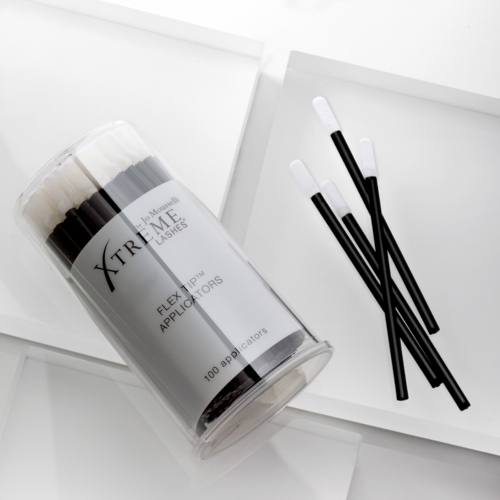 If you're unsure where to buy lint-free cleansing sponges and applicators, our Eye & Face Cleansing Kit from the Extend Your Beauty® Rituals contains an ideal set of cleansing essentials to clean lash extensions! This exclusive kit features the full-size Xtreme Lashes Eye Makeup Remover & Facial Cleanser plus 3 essential cleansing tools. Here's a brief intro to 3 of our tools designed to help you clean lash extensions:
Flex-Tip™ Applicators are our multi-purpose, flexible tools designed to clean lash extensions efficiently and effectively, without putting too much pressure on the hair follicles and lash lines. They're especially great at removing mascara, eyeliner, and eyeshadow with expert control. Since these are lint-free, they are much less likely to snag the base of a lash extension.
Long-Tipped Applicators are slim, precision-focused applicators for cleansing the lash line and in-between eyelashes. They're great for detailed work or fixing a cat-eye flick that went a little astray.
Cosmetic Sponges are lint-free cleansing sponges designed to clean lash extensions and the entire facial area. They're soft, pliable, and gentle on the skin, which makes them great for targeted and all-over cleansing of the eye area and face.
PRO TIP: Moisten the sponges with cleanser and rub them together to increase their size.
You only need to clean your lash extensions when you wear eye makeup. FALSE!
Sweat, dust, and debris come into contact with lash extensions every day. Keep your skin healthy and improve lash retention when you dedicate a few minutes at the end of each day to thoroughly cleanse your skin and clean lash extensions!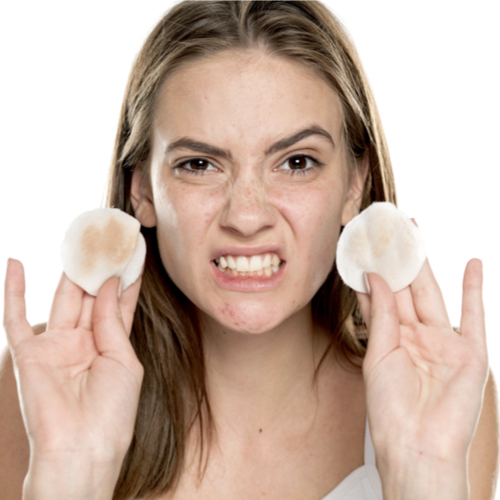 We hope this helped shed some light on the proper and healthy ways to care for your Xtreme Lashes Eyelash Extensions. Remember to book your ReLash™ appointments with your Xtreme Lashes Lash Stylist every 2-4 weeks depending on your growth cycle and lifestyle to keep your lashes full and beautiful. When combined with our cleansing techniques, tools, and cleanser, this will keep your lashes looking gorgeous!