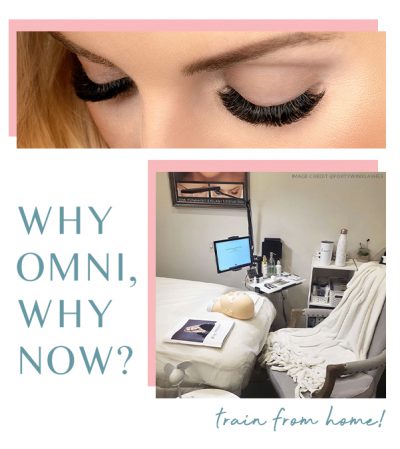 Omni Volume™, or mega volume, is the gold standard for voluminous lash looks. More and more consumers are requesting it by name. Today, read 5 REASONS WHY enrolling in Advanced Omni Volume Training is easier and more beneficial for you career than ever before. This advanced curriculum was created with Your Time, Your Success, and Your Return on Investment in mind.
1. Your Chance to Earn More
Xtreme Lashes Lash Stylists with Omni Volume Certification are charging upwards of $350 for a full set of Omni Volume lashes. Application supplies for a single application is approximately $9. Getting a return on your investment may happen faster than you realize.
2. You're Safe at Home with No Extra Expenses
Since the start of the COVID-19 Pandemic, we've enrolled hundreds into our ONLINE Omni Volume training. Plus, by training from home, you no longer have to worry about travel expenses related to training at a venue (i.e. gas, airfare, hotel, childcare etc.).
3. You can Lower the Training Price
Your Xtreme Rewards™ Points can be used to reduce the price of this training. Did you know that every time you make a product purchase, you're automatically accruing points? One point is equal to $1.00, and it can be applied to any training or product purchase. Apply rewards easily during online checkout or request to use them when shopping over the phone with your Customer Success Manager. View My Points
4. Your Training Equipment, big & small, are Included
Equipment and materials needed for online training are included to make your at-home training experience seamless. You'll receive a full-size massage table, pro lighting, application supplies, and much more! View Training Equipment
5. You'll receive First-Class post-Training Help
Did you put aside Omni Volume training because you weren't sure how to include it into your Service Menu? Or maybe you worried about not having enough Omni Volume Lash images to advertise with? Are you concerned about not being able to master Multi-Lash Pickup? Don't worry! We'll guide you on how to add Omni Volume to your menu and we'll give you Omni Volume model images, similar to the one below, to use to get you started. And, you'll also get access to 7+ hours of high-def Omni Volume technique videos that you can watch anytime after your training.
Our 2020 Omni Volume Certification Training curriculum is packed with new design concepts and application techniques. Enroll today and learn how to create volume lashes with ease, speed, and precision- without fear of damaging natural lashes because you'll have our Lash Calculator® Tool at your fingertips.
If you didn't have time train to before, use this period of social distancing to perfect a technique that can give you the opportunity to earn more, impress clients, and set you apart from local competition.
Enroll now and pay for training over time. Financing is available through AFFIRM or PayPal Financing. Click below to find a training that's right for you. Space is limited. Enroll today!